Edit or upload solrconfig.xml to my Resilient Cluster
Posted: 2017-02-15
Category: Resilient Cluster
Uploading or editing your solrconfig.xml file, in your OpenSolr resilient cluster, wil not propagate it throughout your entire cluster automatically.
Basically, you just have to make sure you upload your solrconfig.xml in all your replicas, or, simply just create another cluster, using the Create Cluster dialog:
This will give you the option to upload your new config zip archive containing all your solr configuration files.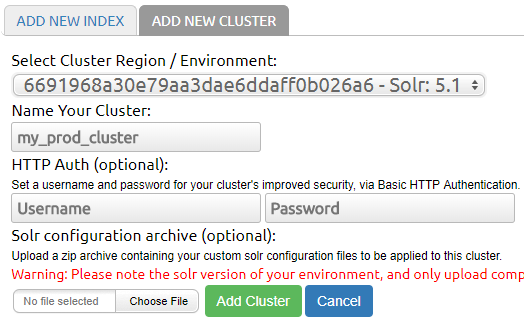 Or, follow these steps to update solrconfig.xml in your existing cluster.
Edit or upload your solrconfig.xml file
Once your solrconfig.xml file is edited or uploaded to your cluster (master) index, make sure you upload it / copy / paste it to the other replicas as well.
Go to your control panel, and click on Show Indexes
Click on your replicas (one at a time), and just upload / edit your solrconfig.xml in each replica as well, just as you did to the cluster (master) index above.
Once this is all done, you will need to re-enable replication, by clicking on the replication icon on your master index.
This is an optional step, that is only required, if you are using HTTP AUTH on your cluster, since this will setup the HTTP AUTH in your replicas once more, in your replicas solrconfig.xml file.
Select your replica (one at a time) from the drop-down list, and click on the Replicate
Once all this is done, you should have your solrconfig.xml file propagated throughout your entire cluster.
Please note that you need to re-enable replication if you add new files to your cluster as well.
If you need help, please let us know