Add HTTP Auth to Resilient Cluster
Posted: 2018-02-21
Category: Resilient Cluster
When managing a cluster, basically, you just have to make sure you setup HTTP Auth in all your replicas, and the master, or, simply just create another cluster, using the Create Cluster dialog:
This will give you the option to set a new HTTP Auth for your new cluster, and it will all be applied automatically, when creating a new cluster.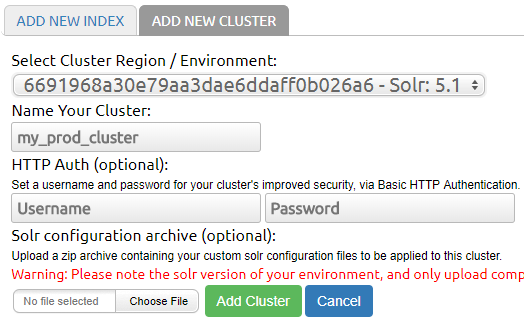 Or, follow these steps to update HTTP Auth in your existing cluster.
Click on your cluster name to get into your cluster control panel
Click on the Security tab, and then on Manage HTTP Auth
Enter your desired username and password and click the SAVE button
Click on the index list menu item
Enable replication between your cluster's master index and your replicas by clicking on the replication icon on your cluster
Select your replica (one at a time) from the drop-down list, and click on the Replicate
That's it! Your cluster should now have HTTP Auth.